Gmund Colors – A System of 48 Colours
With eyes closed, the average person can imagine about 20 different colors. A creative designer or visual artist can envision as many as 50.
And a professional color expert can "see" approx 80 colors in their mind's eye. After extensive research on colors and their perception, Gmund Paper discovered that 48 is the precise number of colors that most human beings can satisfactorily perceive and understand.
Two years of developmental work in Gmund's creative laboratory.
A collection was finally ready that was finely harmonized, comprehensive, intensive and excellently combinable.
Wigston Paper is honoured to be the exclusive UK distributor of this premium coloured paper system.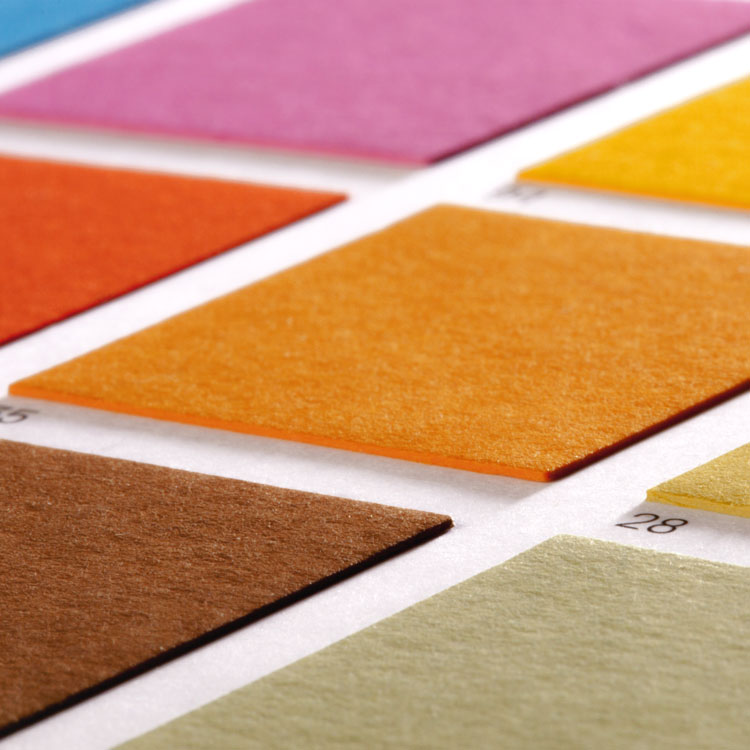 All relevant color groups are represented in the 48 hues of Gmund Colors. There are gradations for the most important colors: 9 different blues, 4 cold and 5 warm grey nuances, 7 greens, 5 colors in the brownish spectrum and a perfect red.
Alongside the look of the colors, this new system also takes into account potential applications for the papers. Blue leads the list of colors for corporate identity with a popularity of 70%, while brown and green stand for ecology and environmental protection. Warm tones appeal to customers' hearts, and straightforward white is the preferred background for formal information.
Enquire
| Paper | 100gsm | 120gsm | 135gsm | 200gsm | 240gsm | 300gsm | 350gsm | 400gsm |
| --- | --- | --- | --- | --- | --- | --- | --- | --- |
| Matt 01 | | | | | | | | |
| Matt 03 | | | | | | | | |
| Matt 04 | | | | | | | | |
| Matt 06 | | | | | | | | |
| Matt 07 | | | | | | | | |
| Matt 10 | | | | | | | | |
| Matt 11 | | | | | | | | |
| Matt 12 | | | | | | | | |
| Matt 14 | | | | | | | | |
| Matt 16 | | | | | | | | |
| Matt 21 | | | | | | | | |
| Matt 23 | | | | | | | | |
| Matt 25 | | | | | | | | |
| Matt 27 | | | | | | | | |
| Matt 28 | | | | | | | | |
| Matt 31 | | | | | | | | |
| Matt 32 | | | | | | | | |
| Matt 34 | | | | | | | | |
| Matt 35 | | | | | | | | |
| Matt 36 | | | | | | | | |
| Matt 37 | | | | | | | | |
| Matt 38 | | | | | | | | |
| Matt 44 | | | | | | | | |
| Matt 45 | | | | | | | | |
| Matt 46 | | | | | | | | |
| Matt 49 | | | | | | | | |
| Matt 50 | | | | | | | | |
| Matt 54 | | | | | | | | |
| Matt 55 | | | | | | | | |
| Matt 57 | | | | | | | | |
| Matt 59 | | | | | | | | |
| Matt 60 | | | | | | | | |
| Matt 62 | | | | | | | | |
| Matt 63 | | | | | | | | |
| Matt 71 | | | | | | | | |
| Matt 72 | | | | | | | | |
| Matt 84 | | | | | | | | |
| Matt 85 | | | | | | | | |
| Matt 86 | | | | | | | | |
| Matt 87 | | | | | | | | |
| Matt 88 | | | | | | | | |
| Matt 89 | | | | | | | | |
| Matt 90 | | | | | | | | |
| Matt 91 | | | | | | | | |
| Matt 92 | | | | | | | | |
| Matt 93 | | | | | | | | |
| Matt 94 | | | | | | | | |
| Matt 99 | | | | | | | | |