A groundbreaking collection of 5 papers that contain up to 50% alternative ingredients, augmented with fresh fibre cellulose.
The collection also includes an ecological classic that's made from 100% recycled paper.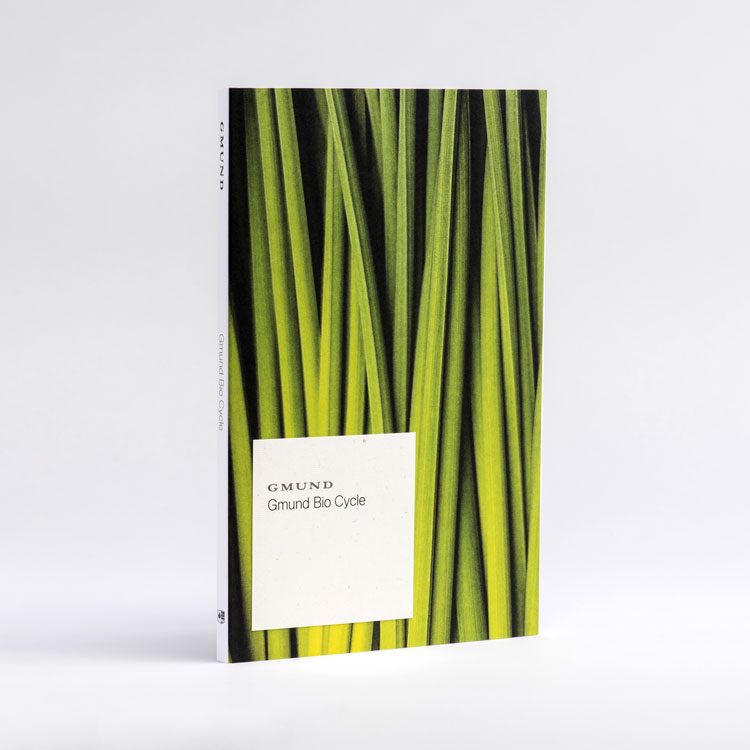 Conservation of natural resources and environmental responsibility were top priorities when the paper experts at Lake Tegernsee developed this new range.
They wanted to use rapidly growing fibres to replace half of the wood that paper usually contains. After countless tests on machines and with different materials, the experts developed a new set of papers that embody timeless beauty and an outstanding ecological balance.
Enquire
Chlorophyll – Blattgrün
Grass cut from Upper Bavarian meadows provides half of the contents of this paper. The grass is painstakingly harvested and dried to achieve the long-fibered structure that's indispensable for a voluminous paper. The paper is radiant with a vivid green colour created in part by adding natural chlorophyll. An impressively heavy weight of 600 g/m2 makes this paper ideal for letterpress or silkscreen printing.
Wheat – Stroh
Gmund's straw paper is much more than a paper for special effects. Up to 50% cellulose from wheat straw replaces the classic wood-based raw materials. Containing 5% unprocessed straw from Bavarian farmers, it creates a genuine straw feeling when you run your fingertips over it.
Cannabis – Hanf
High-quality cellulose from European-grown cannabis is visible in the subdued color and sparse vegetal inclusions, and the hemp is palpable in the paper's slightly coarse texture. Self-evident naturalness makes this paper a convincing and – non-habit-forming! – choice.
Rag – Baumwolle
The cotton used by the paper industry is a waste product from the garment industry. The combination of cotton and FSC®-certified cellulose from fresh fibers results in an ecological paper with great purity, durability, a pleasant feel and an elegant style. The long fibers of the cotton plant ensure outstanding results for embossing and letterpress printing.
Cycle – Kreislauf
The use of 100% recycled cellulose is evident in this paper's attractive color: a cream hue replaces the typical grey of ordinary recycled papers. The unchallenged leader in environmental friendliness, this outstandingly versatile paper is also convenient to process.
| Paper | 100gsm | 120gsm | 300gsm | 600gsm |
| --- | --- | --- | --- | --- |
| Chlorophyll ~ Blattgrün | | | | |
| Wheat ~ Stroh | | | | |
| Cannabis ~ Hanf | | | | |
| Rag ~ Baumwolle | | | | |
| Cycle ~ Kreislauf | | | | |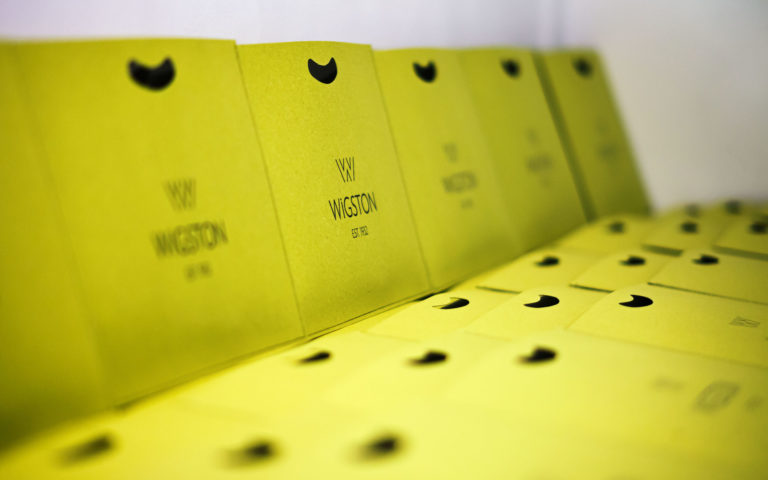 Gmund Bio Cycle Roadshow 2019
VIP guests had an opportunity to get up close and personal with the latest innovation in specialist eco-friendly paper at a series of launch events hosted by Wigston and Bavarian paper mill Gmund, held in…
Read more